Special Needs Trusts:
Choices, Dignity & Independence
Financial Powers of Attorney: The Good, The Bad & The Ugly
Legacy Insights E-Zine Sign-Up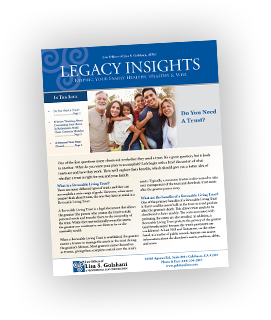 What would happen to the money you leave your children if you don't have a proper estate plan in place?
The Most Common Mistakes Parents Make When Nominating Legal Guardians For Their Children.
Top 10 Costly Mistakes to Avoid When Planning For A Special Needs Child
Find out why your "AB" Living Trust may be obsolete and need revision.
Tips on Nominating Legal Guardians for Your Kids
Introduction to Law Offices of Lisa S. Golshani